Discover
What are these items?
Three postcards featuring photographs taken on the medical wards of the 1st Northern General Hospital in Newcastle, during World War One. Pictured in the photographs are injured soldiers from the war, dressed in flannel suits and ties, Royal Army Medical Corps personnel (a specialised group of individuals in the British Army that provide medical services to all British Army personnel and their families) in uniforms, nurses and the matron.
What was the 1st Northern General Hospital?
The 1st Northern General Hospital was a hospital set up to help soldiers injured during the war. On 6th August 1914, following the outbreak of World War One, the buildings of Armstrong College at Durham University (which has now become Newcastle University), were used to house the 1st Northern General Hospital.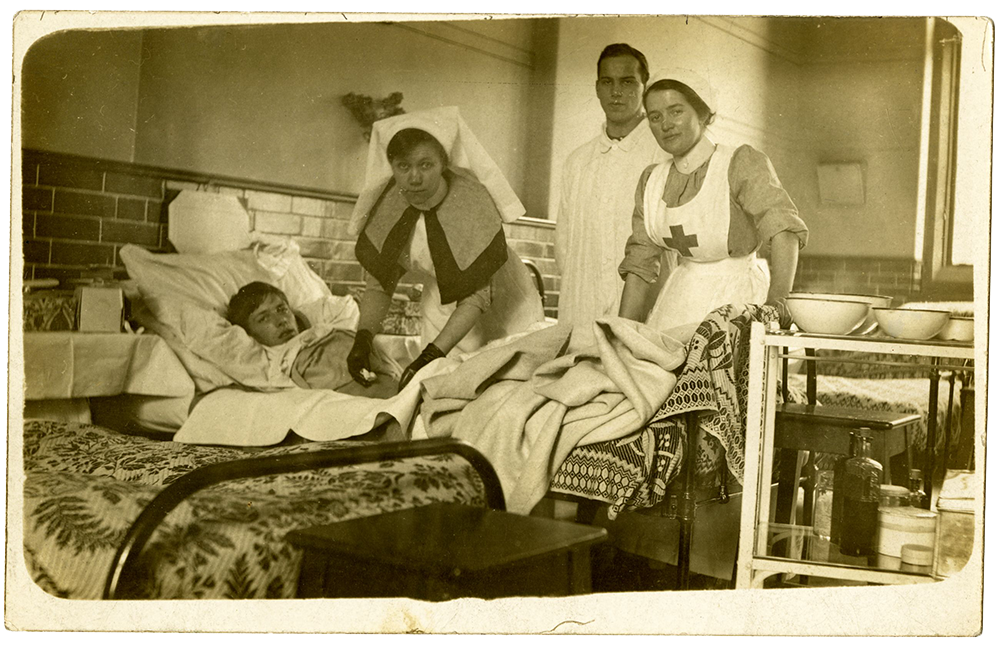 Why was the first Northern General Hospital created?
When war broke out, there was a shortage of beds for injured soldiers. Local Governments as well a private individuals were expected to cooperate with the Army Medical Service (who at short notice could order medical support) to install military hospitals in existing buildings. Armstrong College at Newcastle University was one of these places and the 1st Northern General Hospital was created. It meant that many buildings could not be used for teaching until after the war had ended in October 1919.
When were these photographs taken?
There is a note on the back of all three postcards which tells us that they were taken around Christmas 1915 on the medical wards on the ground floor of the Armstrong Building at Newcastle University.
Who sent these postcards?
The note on the back of the postcards also tells us that they were sent by a 'D. Robinson' at an address in Corbridge, Northumberland.
Play
Help Steve the student graduate from University by correctly answering these multiple choice questions about the First Northern General Hospital photograph postcards.
Welcome to the Library
Can you help Steve graduate from university by answering these questions correctly?
Explore
First World War
Interested in the First World War? Click here to find out about the role played by Newcastle University in the First World War.
Professor Frederick Charles Pybus (1883-1975) was a surgeon from Newcastle upon Tyne and an important figure in medicine both in England and abroad. To find out more about Professor Pybus during the First World War, click here.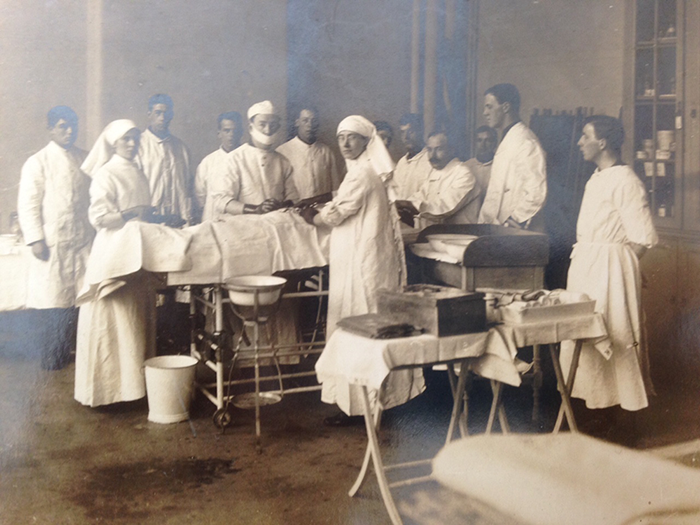 Another item in Special Collections
Interested in learning more about WWI? If you are, you may also like to find out more about some World War One Matchboxes collected by a man called Thomas Baker Brown, held in Newcastle University's Special Collections.